Residents recently celebrated National Pizza Day by holding their own Pizza making workshop!
Seven Residents gathered in the dining room while Caroline set up freshly chopped bowls of potential toppings. These included chorizo, onion, mushroom, pepperoni, cheese, sweetcorn and ham any of which could be used in making individual pizzas.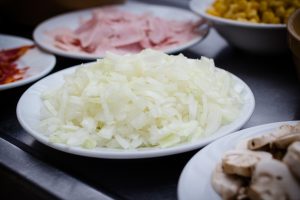 Everybody was given a small selection of bread base's which they would be using to apply their sauce and ingredients chosen. Once their first creation, had been prepared, many Residents were eager to make more and so went on use their spare bases to make more pizzas for other Residents and visitors. This gave everybody chuckle when spicy ingredients were being applied to friends pizza's!
Once our tasty creations had been made, they were added to the baking trays and sent down to the kitchen to be baked!
Cook Bernie had the oven pre-heated ready to bake the two trays of pizzas! After what felt like an eternity waiting (the reality was 10 minutes!)……..finally, our pizzas were returned all cooked and ready to try! Nobody wasted any time and tucked into their pizzas as well as the extras cooked for them by fellow Residents which Caroline brought drinks to be enjoyed with them.
The afternoon proved to be a great success and we are very much looking forward to doing it all over again, without waiting until next year's National Pizza Day!